Post by Kasey on May 3, 2015 6:48:29 GMT -8
The 2014-15 Trail Blazers season, as any other team's NBA campaign, had its ups and downs. Great shots, unselfish sacrifices and great performances from some emerging players highlight the ups. The downs are marred by injuries, a tough playoff match up and the constant questions revolving around LaMarcus Aldridge's free agent future. Undoubtedly, you may have other items or a different order in which these are presented. Please list those in the comments section below.
All that aside, it's time to list my top to moments of the season, as well as some honorable mentions and a tribute to a Blazer great. Here we go.
10. Stevie-B dishes 7 dimes ... and nothing else
Steve Blake did what a reserve point guard should do this season; distribute the ball to his teammates while playing some tough defense. In this March 13 game against the Pistons, Blake dished out 7 assists while showing goose eggs in every other column of the stat sheet. It has never been done before. Ever. In the history of the NBA. He didn't even take a shot or free throw. Blake's solid performance was just one contributing factor in a 118-99 win for the Blazers. Blake said after the game: "If I'd gotten an open shot I would've taken it. But I'm always looking to pass first though."
Stat graphic by SCtoC
9. Meyers' legend grows in the playoffs
Similar to CJ McCollum, Meyers Leonard began showing the strides he had made over the first two-and-a-half years of his career. Against the Grizzlies in the playoffs, he shined. Leonard scored 13 points and hauled in 13 rebounds in game four alone, and was a huge reason the Blazers picked up the win to extend the series to five games. His series stats are skewed a bit since Tery Stotts played him just 5 minutes in game 3 (some fans are still scratching their heads over that one), but he averaged 7.8 points and 6.6 rebounds in the series. Below is Leonard's highlight reel from game 4.
Video courtesy
DowntoBuck
on Youtube
8. The British Bulldog hauls in 17 rebounds
With the Blazers missing Robin Lopez and LaMarcus due to injury, and Chris Kaman with his family for the birth of his first child, Joel Freeland proved the mantle "next man up" as he grabbed a career-high 17 rebounds against in a 114-93 win over the 76ers at Moda Center at the Rose Quarter on Dec. 26. What's even more impressive that he did it in just 25 minutes of playing time. Freeland, who had 6 points on 3-7 shooting, also had an assist and a block. Additionally, the Blazers made 18 three pointers .
Photo courtesy the
Portland Tribune
7. Dame snags 18 boards in win over Clippers
When your shot is not falling, you've got to come up with other ways to help your team. Lillard did just that in the March 4 game against the Clippers in Los Angeles. Despite shooting just 1-13 from the field, the Blazers' all-star guard pounded the boards, grabbing 18 rebounds for the game. Those were the most by a guard in the NBA since Jason Kidd gathered 19 rebounds on Nov. 16, 2007. Lillard finished with the 18 boards, 5 points and 4 assists. His counterpart with the Clippers, Chris Paul, ended with 36 points and 12 assists. Most importantly, the Blazers claimed a 98-93 overtime win.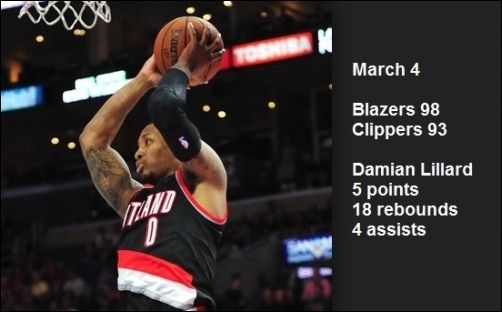 Original photo courtesy RipCityProject.com
6. Dame's 40 vs Westbrook's 40
In one of the better NBA match ups of the season, Damian Lillard and Russell Westbrook squared off two days before Christmas, on Dec. 23. The Blazers were in Oklahoma City to face the Thunder in the last game before the holiday. Westbrook finished with 40 points, 10 rebounds, 6 assists and 3 steals for the Thunder, but it was Lillard who stole the show in the Dust Bowl, scoring 40 of his own while grabbing 6 rebounds, dishing 11 assists and recording 2 steals. Lillard also hit a clutch three to send the game into overtime. The big winner were the Blazers, who won the thriller, 115-111.
Video courtesy
NBA
on Youtube
5. Iron Man lost for the season
It's certainly not a highlight. It was, perhaps, the largest setback the Blazers had this season. The Blazers were in control at home and looking to put away the Mavericks on March 5. It was early in the fourth quarter when Wesley Matthews began his drive from the right three-point arc. Instantly, he was on the floor in pain. He had
torn his Achilles tendon
and be out for the season, and possibly into next season as well. Fans supported Wesley and #WithWes hashtags were used to tweet support. His teammates also donned shooting shirts with "WithWes" on them. Matthews showed his Gratitude for Rip City when he posted this photo and thanks to the BlazerNation to his Instagram.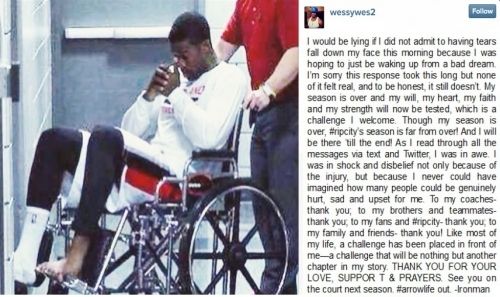 Photo courtesy Wesley Matthews (@wessywes2 on Instagram)
4. Dame scores 43, L-Train 32 as Blazers beat Spurs in 3OT
Just three days after dispensing the defending champion Spurs at home, the Blazers found themselves in San Antonio. Damian Lillard scored 16 of his career-high 43 points in the three extra periods of a triple-overtime win over the Spurs on Dec. 19. LaMarcus Aldridge did his part as well, dropping 32 points and collecting 16 boards. The Blazers trailed by two when Lillard made a layup with 1.4 seconds left in regulation. He then blocked Danny Green's shot as time expired to force overtime. The teams played even in the first and second extra sessions before the Blazers took over in the third, claiming the 129-119 win.
Video courtesy
Youvideo
on Youtube
3. L-Train becomes best board cleaner in team history
LaMarcus Aldridge is approaching and has surpassed several Blazers historical milestones. There was not a lot to like about the Blazers March 20 loss to the Magic in Orlando, but
Aldridge became the Blazers all-time leading rebounder
when he grabbed his 10th board of the game with two seconds to go in the third quarter. With that, he surpassed Blazer great Clyde Drexler to set the team's all-time mark at 5,340. Earlier in the season, Aldridge had moved into second when he passed Jerome Kersey's 5,078.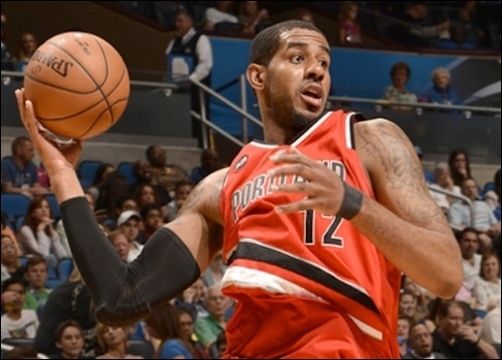 Photo courtesy NBA.com/blazers
2. Three-Jay Explodes in Game 5
The Blazers were unable to win the playoff series against the Grizzlies, but in game 5, CJ McCollum wasn't going to let his team go down without a fight. The second-year Blazers guard, who had become a solid bench contributor over the last third of the season, made a franchise playoff record of seven made three pointers en route to 33 points. McCollum was everywhere in the game, from shooting threes to driving to the basket. After a slow start in the first two games of the series, he would go on to average 25.7 points in games 3-5 of the series while shooting 60.9 percent from the field and 64.7 from three over that three-game span. He also grabbed 4.0 rebounds and led the Blazers with 1.2 steals over the course of the series.
Video courtesy
FreeDawkins
on Youtube
1. L-Train selflessly rocks the BlazerNation
Just five days after tearing the ligament in his left (non-shooting hand) thumb, LaMarcus Aldridge shocked the BlazerNation -- and the NBA -- when he announced he would postponing surgery and
would play with a splint
. The injury occurred as he was swatting at a ball against the Kings' DeMarcus Cousins on Jan. 19. On Jan. 24, after having missed two games (both losses), he made the decision. He originally was going to have surgery and would have been out for 6-8 weeks. Aldridge played that night, scoring 26 points and grabbing 9 rebounds in the Blazers 103-96 win over the Wizards. He averaged 23.6 points and 10.3 rebounds (while shooting 47 percent from the field and 82.7 from the line) for the remainder of the season as the Blazers went 20-13 and won the Northwest Division.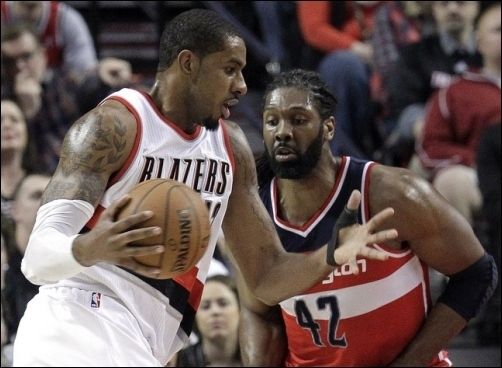 Photo courtesy
The Columbian
Other Notable MomentsFan passes away after collapsing at Blazers game
Sandra Zickefoose, a Blazers season ticket holder,
collapsed in the stands
during the fourth quarter of the Blazers Nov. 6 win over the Mavericks. Play was stopped for several moments as players and fans looked on in disbelief and horror. Medical staff and even other fans attempted to revive her before she was taken to the hospital by ambulance. It was reported the next morning that she had passed away.
Meyers' big night in Brooklyn
The strangest game of the season may just have been the Blazers rescheduled game in Brooklyn. Originally scheduled for Jan. 26, it was postponed to April 6 due to the threat of a storm which never came. Terry Stotts decided to rest LaMarcus Aldridge, Nicolas Batum and Chris Kaman. Meyers Leonard, starting in place of Aldridge, scored 15 and grabbed a career-high 17 rebounds. Despite his efforts, and 38 points from Damian Lillard, the shorthanded Blazers tell to the Nets, 106-96.
L-Train plays in All-Star Game despite thumb injury
When LaMarcus Aldridge decided to postpone surgery on this thumb, he also decided he would brave the injury and play in his fourth consecutive All-Star Game. He had his best all-star outing yet; this time
as a starter
, scoring 18 points and going 4-4 from the three-point line. He also had 2 rebounds while playing 18 minutes (the lowest of any starter on either team). Damian Lillard had a solid showing as well with 11 points, 2 rebounds, 2 assists and 1 steal.
Wes-Mat finishes fourth in All-Star Weekend's Three-Point Shootout
The NBA seems to tweak the rules of its All-Star Weekend events yearly and, while there is no actual trophy for fourth place, Wesley Matthews had the fourth-highest score after the first round. The problem is, only the top three of eight shooters advance to the finals. Steph Curry won it with 27 in the finals, while Kyrie Irving came in second with 17 and Klay Thompson was third with 14 in the finals. For all intents and purposes, we're going to give Matthews fourth place for his score of 22 in the first round, Marco Belinelli and Kyle Kover tied for fifth with 18 each, J.J. Redick was seventh with 17 and James Harden last at 17.
Triple-A calls the Blazers a contender in letter following trade
Talk had been rampant that the Blazers were looking to make a move to bolster their bench for the playoffs. That talk became official as the Blazers
acquired guard Arron Afflalo
as part of a five-player deal with the Nuggets. Afflalo penned a
letter to Blazers
fans telling them a little background of him and calling the Blazers "championship caliber." In a later portion of the letter, he says: "As excited as I am about this opportunity, I want to make this clear: I'm here to help this team reach its goal of winning a title."
In Memorium
Former Blazer player turned team ambassador and director of alumni relations Jerome Kersey passed away on Feb. 18 from a pulmonary embolism. Kersey, who spent the first 11 years of his 17-year playing career with the Blazers, had been a fixture in the Blazers and Portland community. Former voice of the Trail Blazers Bill Schonley hosted a public memorial on March 2, which featured speakers such as Kersey's former Blazer teammate Terry Porter, and Kersey's daughter, Kiara, and his wife, Teri. The Blazers wore
JK25 patches
on their jerseys to commemorate Kersey's life and impact in the Portland community.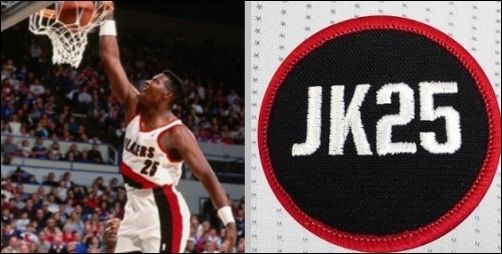 To comment on this thread and others on this forum, please
login
or
register
.